MOFA - Taiwan Huayu (Mandarin) Scholarship Program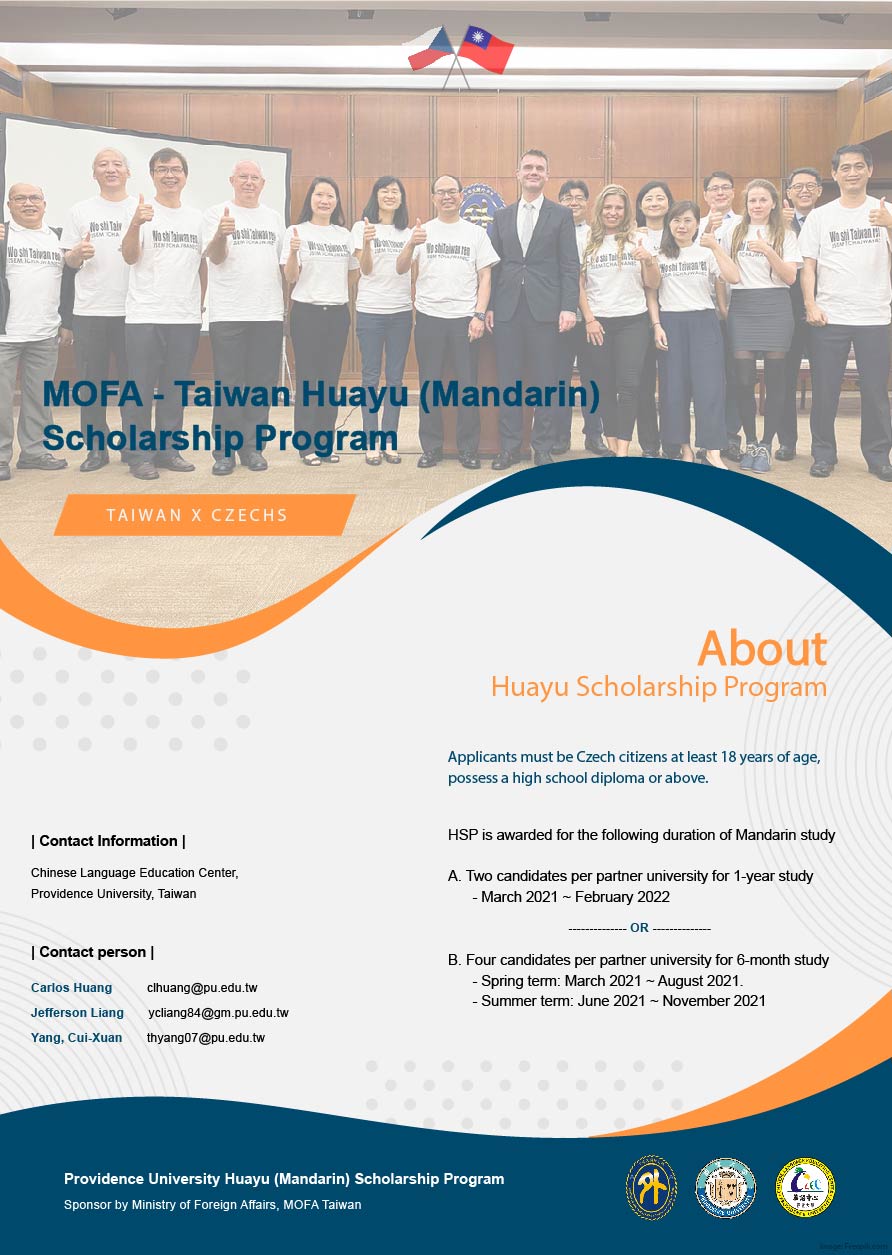 In addition to the indoor language courses, the Chinese and cultural experience courses of this project also include outdoor-themed learning experience trips. The immersive learning model that combines learning and use will make participating students impress the school and Taiwan. The characteristics of Chinese language courses and cultural studies are as follows:
(1) Language learning and environmental interaction:
Mandarin teachers design a variety of teaching methods so that Chinese teaching is not only limited to the classroom in the school but also leads students out of the classroom and actually interacts with the environment, which can enhance the opportunities and fun of learning Chinese for international students. For example, students learn the vocabulary and sentence patterns of ordering meals in the course and then move to the student dining room after class to apply the language learned in the classroom to the real field.
(2) Local cultural promotion:
Integrate the geography, humanities, industry, and other resources of the central region, extend the teaching field to the community and develop regionally characteristic courses that combine language and culture. By visiting the scenic spots in Taiwan, such as Taichung Small Tour, Fengjia Night Market, Lin's Garden, Gaomei Wetland to admire the sunset, and Sun Moon Lake tour, you can have a cross-domain experience and discover the style of Taiwan that is different from your home country.
(3) International cultural exchange:
Solicit Taiwanese students to serve as international students to help foreign students adapt to life and study in Taiwan, and learn cross-cultural communication in the process. The promotion strategy framework for this Chinese course is as follows.
Providence University Chinese Language Education Center
Quarter

Date of Course

Apply dateline

(need apply ARC)

Apply dateline

(without apply ARC)

2021 Spring

2021/03/01~ 2021/05/18

2021/01/20

2021/02/05

2021 Summer

2021/06/01~ 2021/08/20

2021/04/25

2021/05/15

2021 Autumn

2021/09/01~ 2021/11/18

2021/07/25

2021/08/15

2021 Winter

2021/11/29~ 2022/02/18

2021/10/25

2021/11/15
The Mandarin Program 華語課程

Level

Code

Course Title

Hours

1

101AB

Mandarin 1 初級華語 (一)

10

102

Oral Speaking 1 口語訓練 (一)

3

103

Chinese Pronunciation華語正音

2

104

Chinese Character Writing and Radical 1 寫字課與部首教學 (一)

2

2

201AB

Mandarin 2 初級華語 (二)

10

202

Oral Speaking 2 口語訓練 (二)

3

203

Chinese Character Writing and Radical 2 寫字課與部首教學 (二)

2

204

TOCFL Empowerment Class 1華語文能力測驗培力班(一)

3

3

301AB

Mandarin 3 初級華語 (三)

10

302

Oral Speaking 2 口語訓練 (三)

3

303

Chinese Readings & Writing 1 華語閱讀與寫作 (一)

2

304

Chinese Character Typing Training 中文拼音練習W/I-phone, I Pad

2

305

Chinese Thinking and Expression華語思維與表達

2

4

401AB

Mandarin 4 中級華語 (四)

10

402

Oral Speaking 4 口語訓練 (四)

3

403

Chinese Readings & Writing 2 華語閱讀與寫作 (二)

2

404

TOCFL Empowerment Class 2華語文能力測驗培力班(二)

3

5

501

Mandarin 5 中級華語 (五)

10

502

Oral Speaking 5 口語訓練 (五)

3

503

Chinese Readings & Writing 3 華語閱讀與寫作 (三)

2

504

Movie Watching and Chinese Learning看電影學中文

2

505

Chinese Short Novel Readings短篇小說閱讀

2

6

601

Mandarin 6 中級華語 (六)

10

602

Oral Speaking 6 口語訓練 (六)

3

603

Chinese Business Conversation 中文商業會話

2

604

Chinese Readings & Writing 4 華語閱讀與寫作 (四)

2

605

TOCFL Empowerment Class 3華語文能力測驗培力班(三)

3

7

701

Mandarin 7 高級華語 (七)

10

702

Selected Stories 故事選讀 - (中國寓言、民間故事、成語等)

2

703

Newspaper Reading 1 /新聞報紙選讀(一)(社論、政治、經濟 等)

2

704

Taiwanese Proverbs 1台灣諺語、歇後語、俏皮話

2

8

801

Mandarin 8 高級華語 (八)

10

802

Newspaper Reading 2 /新聞報紙選讀(二)(社論、政治、經濟 等)

2

9

901

Mandarin 9 高級華語 (九)

10

All Level

001

Chinese Cultural Class and Aboriginal Totem中華文化課與原住民

文化圖騰 (飲食節慶、名勝建築、烹飪、書法國畫…等)

2

All Level

002

Learning Chinese Song 1 中文歌曲教學 (一)

2

All Level

003

Chinese Dialects - Taiwanese 1 台語教學 (一)

2
Textbooks used in CLEC, Providence University
| | | |
| --- | --- | --- |
| Level | Textbooks Title | Year |
| 1 | 實用視聽華語一Practical Audio-Visual Chinese1, 3rd Edition | 2017 |
| 1 | 漢語大師一Chinese Master 1 | 2007 |
| 2 | 實用視聽華語二Practical Audio-Visual Chinese 2, 3rd Edition | 2017 |
| 2 | 漢語大師二Chinese Master 2, 3rd Edition | 2013 |
| 2 | 遠東商務漢語(1) Business Chinese I | 2011 |
| 3 | 實用視聽華語三Practical Audio-Visual Chinese 3, 3rd Edition | 2017 |
| 3 | 漢語大師三Chinese Master 3, 3rd Edition | 2013 |
| 3 | 實用中文讀寫(1) Practical Chinese Reading and Writing I | 2016 |
| 3 | 遠東商務漢語(2) Business Chinese II | 2011 |
| 4 | 實用視聽華語四Practical Audio-Visual Chinese 4, 3rd Edition | 2017 |
| 4 | 漢語大師三Chinese Master 3, 3rd Edition | 2013 |
| 4 | 實用中文讀寫(2) Practical Chinese Reading and Writing II | 2016 |
| 4 | 遠東商務漢語(3) Business Chinese III | 2016 |
| 5 | 實用視聽華語五Practical Audio-Visual Chinese 5, 3rd Edition | 2017 |
| 5 | 漢語大師四Chinese Master 4, 3rd Edition | 2013 |
| 5 | 今日台灣 Taiwan Today | 2004 |
| 5 | 中國寓言 Chinese Moral Tales | |
| 5 | 中國成語故事 Chinese Idioms | |
| 6 | 迷你廣播劇 Mini Radio Plays | 2013 |
| 6 | 讀報學華語(1) Learning Chinese With Newspaper I | |
| 6 | 中國民間故事(2) Chinese Folk Tales II | |
| 6 | 中國歷史故事(1) Stories from Chinese History I | |